Massage
Body massage is the general term used to describe the pressing, rubbing and manipulating of the skin muscles, tendons and ligaments in various parts of the body. Massage is commonly offered in spas and beauty centers but in recent times medical clinics and hospitals have been offering this service as well. Massage therapy is administered by trained massage therapists who use their hands, fingers, forearms, feet and elbows to stroke and apply pressure. Stress relief, relaxation and blood pressure control are some of the benefits of massage therapy. There are many types of massage therapy available, common variations include relaxation massage, remedial massage and pregnancy massage.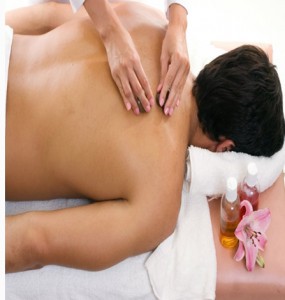 Relaxation massage
Relaxation massage, also known as gentle Swedish massage, uses smooth gliding strokes over the body. Light pressure is applied and the pace of the massage is quite slow. The main goal of this type of massage is to calm the nervous system and promote a sense of total well-being.
Benefits of relaxation massage:
Relaxes muscle tissues
Calms the nervous system
Improves blood circulation
Stimulates the body's lymphatic system (to eliminate waste products and toxins)
Induces sleep
Treatment process:
During the massage, light pressure is applied at a considerably slow pace. This massage uses long and smooth gliding strokes with less emphasis on muscle knots and adhesions. Pain is not inflicted during the whole therapy. The massage therapist's goal is to promote full body relaxation.
What to expect?
Expect to fall asleep during this full body relaxation experience. Expect to feel calm and energized after the massage. Since this type of massage is for relaxation, do not expect too much pressure application and hard strokes.
Remedial Massage
Remedial massage is a form of deep tissue massage, performed to help the body return to normal after an injury. Remedial massage is indicated for sprains, broken bones, muscle strains and bruises. Remedial massage is done together with other medical procedures to promote healing and recovery.
Benefits of remedial massage:
Minimizes tenderness and discomfort in the affected area
Immediate results, requires only a few treatment sessions
Can successfully treat cartilage damage, hamstring injuries and Carpal tunnel syndrome
Can reduce muscle soreness from over exertion
Treatment process:
It is a requirement for the remedial massage therapist to have a thorough background of the human anatomy and physiology. The massage therapist uses firm strokes with regulated pressure on injured deep tissues to encourage natural healing. These strokes are also designed to increase the lymphatic blood flow in the injured area.
What to expect?
Remedial massage can effectively remove blockages, damage cells and scar tissue formations. Injured clients will be able to observe an increase in their activity levels, similar to that of their non-injured state. Aside from fixing mechanical injuries, remedial massage therapy also promotes full body relaxation.
Pregnancy Massage
Pregnancy massage or prenatal massage is designed for expectant mothers during the 2nd and 3rd trimester of their pregnancy. This type of massage helps minimize pregnancy related discomforts such as lower back pain, joint aches and swelling in the arms and legs.
Benefits of pregnancy massage:
Decreases lower back and leg pain
Improves sleep
Decreases swelling in the arms and legs
Improves mood (due to the increase in dopamine and serotonin)
Treatment process:
The massage therapist should be trained at administering pregnancy massage. The pregnant mother is positioned comfortably on her side using a specially designed pillow, to accommodate her pregnant belly. The strokes used are deep and long, putting emphasis on large muscles and joints. Slight tapping is also applied on certain pressure points to release (qi), the body's natural energy.
What to expect?
If you're in the first trimester of your pregnancy, its best not to have this type of massage yet. Pregnant women who have pre-existing conditions must consult with their doctors, if this pregnancy massage is safe for them. During the massage, the pregnant belly is not included.