Manicure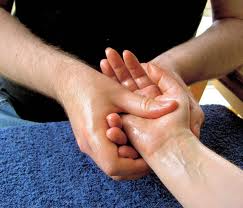 A manicure is a beauty treatment for both the hands and nails, it usually includes a massage, nail shaping and the option of having nail polish applied. Although, a manicure can be done at home, it is much better when it is done by a professional at a salon – they will be experienced and  it will improve the health of your hands, leaving them soft, while protecting your nails from fungus and various other problems.
Benefits of a manicure
Manicures not only look great, they also have loads of great benefits including:
The movement when massaging the hands is actually good for increasing blood circulation, improving the overall health of hands and skin.
Future nail problems, including brittle tis and splits can be prevented.
Hangnails  – the saw torn skin next to fingernails – can be removed.
The flexibility and suppleness of hands and wrist will be increased.
Your nails will be tidied up and shaped, this will lead to stronger nails in the long run.
Any skin problems can be identified and taken care of.