Acne
Acne is a common skin disease that causes pimples, a type of skin lesion that forms when the hair follicle found under the skin clogs up. Pimples can grow on any part of the body including the arms, chest, back, shoulders, face and neck. Untreated acne can lead to unsightly scars. There are several factors that contribute to the development of acne including hormonal change (during pregnancy and adolescence), stress, certain food items and pollution. Acne treatment involves skin care products, creams and antibiotics.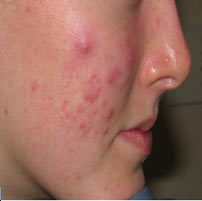 The Do's and Don'ts of acne treatment
Do not touch, pop, squeeze or pick acne, especially during its active phase, doing this can only make acne worse.
Use acne products that contain benzoyl peroxide and salicylic acid, these are effective anti-acne agents.
Make your skin regimen as gentle as possible, avoid scrubs and abrasive cleansers.
Wash the face at least twice a day using a mild facial cleanser.
Wait for the acne products to work, nothing works overnight, the average time it takes is 4 weeks.
For people with oily hair, use shampoo regularly, oils from the hair clogs pores and cause acne.
Choose oil-free and non-comedogenic (non-pore clogging) skin care products and cosmetics.
Always remember, that acne can be successfully treated.
Acne Treatment
A correcting facial treatment designed to treat oily skin and acne. This treatment uses a deep cleansing hydroxyl acid solution to help clear pimples and acne. A series of acne treatments can significantly improve acneic skin.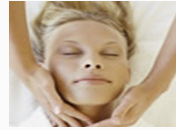 Treatment Process and Benefits
Application of a Bi-phased exfoliation solution which contains glycolic acid, salicylic acid and kaolin – provides deep cleansing and mild exfoliation.
Application of an Ultra-clearness serum with tea tree oil – helps refine skin texture, making it soft and smooth. Tea tree oil adds a detoxifying effect, removing impurities and free radicals.
Application of a Clarifying coolness mask – the cooling mask has a soothing effect. It also helps speed the recovery process.
Application of a normalizing cream with essential oils – This solution has mild antiseptic properties effective in clearing acne.
Energist Ultra VPL treatment