Lithos Therapy Massage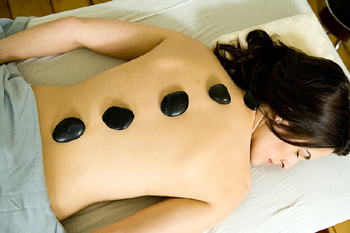 Lithos Therapy Massage utilizes heated and chilled rocks as instruments to enhance and optimize the benefits of massage and skin care treatments in the body face, feet and hands. This therapy can also accelerate detoxification, healing and cellular rejuvenation. Proper circulation and oxygenation in the tissues and muscles are among its benefits. Lithos therapy massage promotes full body relaxation and wellness while offering a holistic experience. This uses several techniques, such as rock placement on the back, arms and legs as well as facial massage.
The benefits of Heated and Chilled marble stones
Heated marble stones are strategically placed over pressure points and energy pathways in various parts of the body. The benefits of heated marble stones include:
 Deep muscle and tissue relaxation
 Improves blood circulation
 Release and drainage of toxins
 Pain relief
 Stress relief
 Promotes sleep and relaxation
Heated marble stones can effectively treat muscle pains, arthritis, anxiety, circulatory problems and insomnia.
Chilled marble stones promote a deep state of relaxation and tension relief. Other benefits include:
Abdominal pain relief
Nasal congestion reduction
Alleviates swelling and inflammation
Improves blood circulation