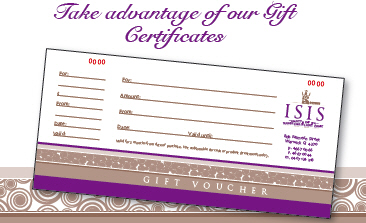 You can purchase personalized vouchers on line.Simply click on "add to cart" button and our secure shopping cart will process your details.
PLEASE ENSURE THAT YOU ENTER THE
GIFT VOUCHER RECEIPIENT'S NAME.
ONLY ISIS BEAUTY & SPA MANAGEMENT or their nominated staff
WILL PROCESS YOUR CREDIT CARD DETAILS
Gift Voucher Terms:
Gift Certificates are valid for 3 months from date of purchase. They are not redeemable for cash or product (treatments only). Only paid for vouchers will be honored.
A pdf file will be generated and emailed once you paid for voucher via PayPal or creditcard.
You can print it for your own use.Your voucher record will be emailed to isis beauty and day spa.
Any concerns about this transaction should be resolved by calling ISIS Beauty & Spa in normal trading hours at 07 4667 0066 within 7 days of the specified date otherwise ISIS Beauty & Spa will process your credit card and validate vouchers as paid.